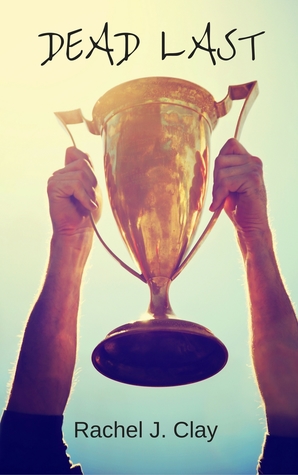 Dead Last by Rachel J. Clay
Published by Smashwords
Ebook
Published 16 October 2016
240 pages
Review copy
The author gave me a copy of this book and I voluntarily reviewed it.
WHAT'S IT'S ABOUT
Carla and Sasha are the daughters of an Olympic Champion and because of that they are expected by their family to compete in running, swimming and athletics and win. Until Sasha goes for a run on her own and disappears. No one knows what happened to her, or why she disappeared.
Carla is left to compete on her own, until she is approached by a boy she doesn't like, who warns her to stop competing, as her life might be in danger. Carla thinks it a cruel joke… but is it?
OPENING 
Sasha took a deep breath and braced herself.
WHAT I THOUGHT 
I enjoyed Dead Last. This made a refreshing change from the usual YA books featuring zombies and/or the end of the world in one ominous form or another. I liked the author's style. This is a fine example of writing exactly what you mean without waffling around. Just enough information is given to get the old cogs in your brain working. Although at times, I found the prose a bit on the sparse side making this a very short, crisp read. I'd have preferred a bit more flesh on the bones of Dead Last. As it stand, this is a novella, not a novel. Dead Last is intriguing and unsettling at times. I found myself turning the pages rapidly to find out of what was going on my head would match what happened on the page. I thought the characters were quite written and interesting but lacked the depth and detail I like in my characters. I never got a chance to know them really well. One of the things I enjoy about a book is falling in love or hate with the characters and this was a missed opportunity with Dead Last. Overall, this is a decent read for the YA market but could have been a bit meatier. I wanted more.
RATING