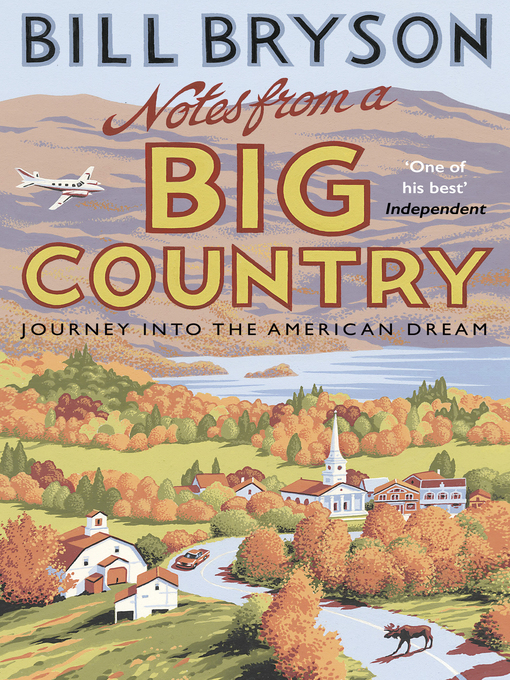 Notes from a Big Country (Journey into the American Dream) by Bill Bryson
Published by Transworld Digital
Ebook
Published 2 March 2010 (first published 1998)
416 pages
Digital library book
WHAT'S IT'S ABOUT
Bill Bryson has the rare knack of being out of his depth wherever he goes – even (perhaps especially) in the land of his birth. This became all too apparent when, after nearly two decades in England, the world's best-loved travel writer upped sticks with Mrs Bryson, little Jimmy et al. and returned to live in the country he had left as a youth.
Of course there were things Bryson missed about Blighty but any sense of loss was countered by the joy of rediscovering some of the forgotten treasures of his childhood: the glories of a New England autumn; the pleasingly comical sight of oneself in shorts; and motel rooms where you can generally count on being awakened in the night by a piercing shriek and the sound of a female voice pleading, 'Put the gun down, Vinnie, I'll do anything you say.'
Whether discussing the strange appeal of breakfast pizza or the jaw-slackening direness of American TV, Bill Bryson brings his inimitable brand of bemused wit to bear on that strangest of phenomena – the American way of life.
OPENING
I once joked in a book that there are three things you can't do in life. You can't beat the phone company, you can't make a waiter see you until he's ready to see you, and you can't go home again. For the last seventeen months I have been quietly, even gamely, reassessing point number three.
WHAT I THOUGHT  
I had a great time reading Notes from a Big Country. I laughed so many times reading this book I lost count. Bryon's insight, commentary and humorous asides after returning to the country of his birth after living in Britain for two decades was a delight to read. I found his, mostly horrified reaction to life in America highly amusing consider he was born there. Living in Britain has left him unprepared for a reverse form of culture shock. I found so many of the stories and anecdotes in Notes from a Big Country amusing. I read the book mostly during my breaks at work where I would sit in the corner and chortle away to myself while everyone around me gave me strange looks. What amused me the most about Bryson's reaction to returning to the country he was born was how British his responses were. You could almost believe Bryson had never been to American before because so many things seem completely alien to him. Notes from a Big Country is a series of columns Bryson wrote for the Mail on Sunday in the late 90's. I'd have loved to read them in their original format. I thought Notes from a Big Country was great and would highly recommend it.
RATING